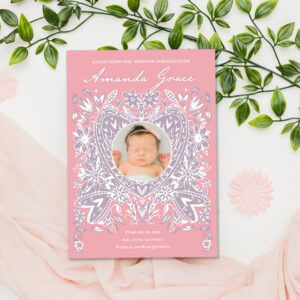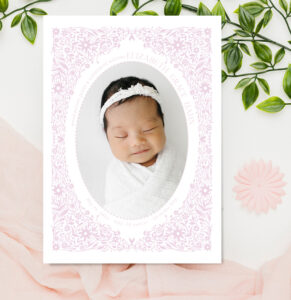 I created both baby designs for Minted almost a year apart. In fact, I made over 100 invitation and greeting card designs for Minted in 2022 alone, not to mention numerous surface pattern designs (that's another post!)
I first discovered Minted in 2011. I entered design competitions very sporadically throughout the years, never really taking the time to truly understand the stationery market, or who I was designing for. To be fair, my focus was corporate graphic design and I was busy starting my own business in this area — I also had moved across country, was busy raising 2 kids and had other family obligations. I don't mention this as an excuse, but that was my life and I was in a different season.
In 2021 I started entering the challenges more regularly. In 2022, I dedicated myself full time to my art. I delved into Minted and really tried to understand the market. By May I was getting frustrated, I had entered so many designs, what was I doing wrong?
I Dm'd a few other successful Minted designers, one who is in my local area was incredibly helpful and emailed me many tips and general encouragement.
What I failed to realize is there's incredible competition on Minted. There are many seasoned designers who also have been working consistently with Minted for 15 years. They understand stationery design and there's no substitute for experience. There are also many newer designers who are entering Minted's contests. Many design challenges have a few thousand entries.
Each challenge presents a unique opportunity and…challenge! Many, many amazing designs do not get selected. Perhaps there is already a similar design in their line. Perhaps it's really not in line with the market. There are many reasons you might not get a "win." You cannot take any of it personally.
If you're making commercial art, ask yourself — would I buy this? Would the target audience buy this? I would have loved to use this design for my own daughter's birth (many years ago, she just turned 21!) But, I can honestly say looking at the version I created a year ago I wouldn't have bought it. The newer version is far superior. And even if it doesn't "win" the challenge I know for myself I feel like I already got a "win." I can see so much improvement in my design.
Also Minted stresses quality over quantity. In one of the last challenges of 2022 I went all out and entered the max number of designs I could. It wasn't productive though, only a month later when I look back there are only 2 that I really love and would buy myself. Again, as a commercial artist, you need to understand the market.
After speaking to a few artists, I recommitted myself to keep going. I drove 2 hours to a Minted meetup to meet other artists. I definitely struggled with "imposter syndrome" sitting with artists who had so much success. I had never even won a Minted challenge… What was I doing there? But they were gracious and encouraging.
I downloaded the challenge calendar. This allows me to plan for the year and think of ideas ahead of time instead of being rushed. I also joined the Minted community on Slack where there is a lot of interaction and questions between artists and the Minted Artist Relations team.
I started listening to the Minted sponsored calls that explain each challenge, what they are looking for and review the market. Incredibly helpful!
I joined a "Buddy group" online with other much more seasoned designers in the Minted realm. We have been meeting via Zoom once a month. They are so supportive, imposter syndrome can run rampant talking to artists that have had much more success in this market… but I know I will get there.
In June I won my first greeting card Editor's pick. I hope it's the first of many. One thing I know for sure, I am not giving up!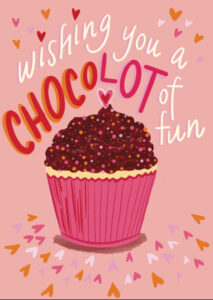 Have you entered Minted's challenges? I'd love to hear your thoughts.