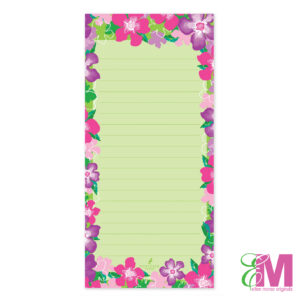 I'm so excited to announce that a design I did earlier this year for Northern Cards will be available for purchase soon. You can find art on products anywhere, including those notepads that stick on your fridge. It's so amazing to see my art going out onto the world!
Here is the copy from Northern cards website:
Stay organized with our pack of 6 magnetic fridge notepads, which all feature lovely floral designs and are very handy to have around the home. You'll get six different colourful designs of daffodils, daisies, poppies, sunflowers, tulips and tropical flowers.
There are 60 sheets per pad, so you'll have 360 lined sheets to scribble on, add your shopping list to, use in your workspace, leave notes for the family and so much more. Each notepad measures 22cm x 10cm (9″ x 4″) and is made from FSC-certified paper. 
UPDATE: the notepads are live and ready for purchase!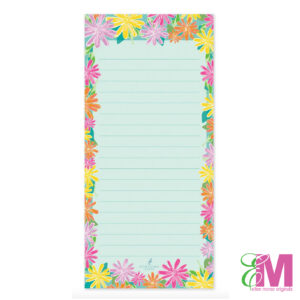 Fun fact for all artists out there: I was able to get this project after taking Elizabeth Silver's Start Your Surface Pattern Business. I worked on my email pitches and started researching and emailing. I am not an affiliate for Elizabeth but wanted to give her a shout out because her You Tube channel and courses are amazing resources for artists.